Yesterday I launched a new site, marker/music.
It came about because of an email from Greg Blair, an assistant art professor at Northern State University in Aberdeen, SD. He had seen my site In Bb 2.0, and wanted to know if I would be interested in producing a similar project with the students and faculty at the school. I liked the idea, but I wasn't sure exactly what kind of project we would do, or what could make it more than just a rehash of In Bb.
After talking on the phone with Greg, a few interesting aspects of the project took shape that could make it different from the other site.  It would be produced entirely in Aberdeen, over a short time period, with the people and resources in the community.  In the way that In Bb connected people from around the world, I wondered if working on this project could bring together people living in the same town. Is that what comes after Web 2.0 — Local 3.0? Also, I didn't know anything about Aberdeen, which made it interesting. And the Google Map image had a certain remote appeal: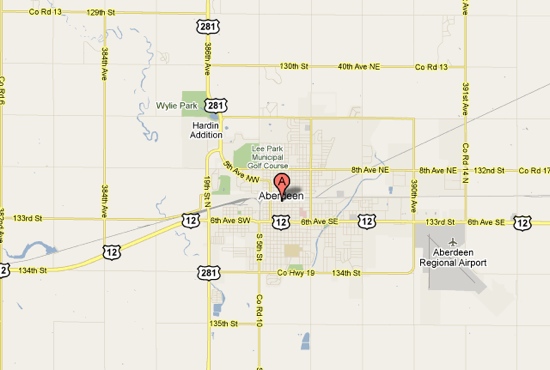 We kept some of the ideas from In Bb, like having all the music be in the same key (we decided later on G major), and using YouTube for the videos.
So we scheduled 5 days in October for me to visit, and came up with a rough itinerary – an initial orientation for anyone interested, 2 1/2 days of shooting video, and 2 1/2 days for editing and web programming. This would all involve different departments in the school, like Art, Music and Computers, as well as anyone in town that wanted to be a part of it.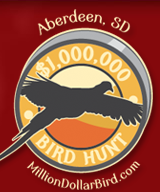 _____
I knew we weren't in Jersey anymore when I landed at Aberdeen Regional Airport and saw a recycle bin labeled "pop cans only", and a large sign announcing the Million Dollar Bird Hunt. Apparently the town is well known as a pheasant hunting destination, and the Bird Hunt is a promotion involving banding some birds and releasing them into the wild.  There are cash prizes, up to a million dollars, for shooting a bird with one of the bands. They even had a bowl of promotional bands at the airport – I had to grab a few.
The next day started out with the initial meeting. We took over one of Greg's art classes and had maybe 100 students in the room. I had prepared a Google Docs Presentation (cloud computing FTW!) and took everybody through my process in creating In Bb, talked about the as-yet-unnamed new project, and laid out the schedule for the week. We armed everyone who was interested with video cameras and sent them out to shoot.
Here's some interesting stories behind a few of the videos in the site-
A Chinese foreign exchange student named Ramble asked me if he could produce a video with dancing. I told him it sounded great, and soon he came back with this great footage of him popping and locking. I knew it was a keeper – it just needed some music. He said he wasn't a musician, but volunteered to teach himself Garage Band, which was loaded on some of the Macs in the computer lab. I was skeptical, but in about half an hour he had composed the soundtrack. Later he showed me some great web design he did with Maya and Javascript, and told me about his ambition to be a Creative Director at an ad agency. I loved meeting him – his enthusiasm was infectious, and I think he'll go far.
One of the ideas that I had for In Bb which I never got to explore was to use an ensemble in a video, rather than just an individual musician. Greg told me the school had a jazz ensemble, so I came up with a plan to "improvise" using the whole group. During their rehearsal, Greg, a camera-person and I walked over to the band room and gave them a quick brief about the project. The band director and the students were game, so I wrote 5 sets of chord tones in large numbers on the whiteboard for the students to copy down, something like this-
#1 – 1,3,5,7
#2 – 1,2,4,6
#3 – 2,4,5,6
#4 – 2,3,5,7
#5 – 1,4,5,7
In the video I hold up my fingers to indicate which group of chord tones to play, relative to the G major scale.  Each musician can pick any of the chord tones in that group, and play them in any octave, as long at it's not lower than the G below middle C, to keep things from getting muddy.  Despite the fact that it's an unusual way of making music, everyone picked it up right away, and this video is the first and only take we shot.
Lu, another Chinese foreign exchange student, volunteered to read a poem in Chinese.  It seemed like a great idea, and I thought it could work well paired with some footage that needed audio.  The video is an animation drawn with markers on the whiteboard in the NSU computer lab by Lauren, an art student.  We added a mirror-image effect and the soundtrack of Lu reading her poem about color, inspired by the animation.
This was taken from Greg's car on my iPhone running the Timelapser app. We were driving from my hotel to the Red Rooster Coffee House, a really nice local hangout (try the hummus sandwich) where the stairwell guitar video was shot. The audio is a recording of an NSU group piano class, reversed and slowed down 50%.
____
By mid-week we had an amazing 70+ videos, which were collected and edited by student volunteers in a late-night computer lab session, with indispensable help from Keum-Taek Jung, a professor who everyone calls "Tek".
We tried playing the videos in different combinations.  Similar to In Bb, only a small fraction had that certain quality that allowed them to work well with the other videos.  There were some creative videos with good performances that we just weren't able to use, but I thought we had some great stuff.
As we were making the video selections, we started talking about the web interface.  We began with an interface similar to In Bb, but thinking about how the focus on this project was the location rather than the key, I had the idea to use a map-based interface.  I mentioned this idea to Bob, a talented, about-to-graduate programmer.  When I saw him again later that afternoon he had a working version of the site, with embedded videos in a custom Google Map, using their API.  I was blown away, and thrilled – the site was really starting to take shape.
By Friday afternoon when I left, we had selected our videos and put up a beta version of the site.  But in the following days as Bob and I were working to finish up the design, it became apparent that the Google Maps API wasn't made for this kind of application, and we needed some custom code from somebody experienced in this area.  I remembered reading this article by Derek Sivers about hiring programmers, and decided to put a post up on Elance.  Five people submitted proposals, and I chose to go with a programmer named Alex who seemed experienced and well recommended.
He turned out to be great, and quickly got me the code we needed to finish the site.  This was my first time using a service like this, and I'm sure that experiences vary, but it seems like a great resource for someone who needs to bring in an occasional heavy hitter, or a really powerful way for a musician to create web-based content or an app, and stay focused on the music.
____
All told, the experience was a lot of fun.  One thing that surprised me was the creative freedom I felt when I was there.  If we wanted to shoot somewhere or needed to use a certain piece of gear, the answer was always yes.  Or if we wanted to find someone that played a certain instrument, a few phone calls would be made, and we'd have who we needed.  I wouldn't have guessed that Midwestern friendliness would translate so easily into creative potential, but so it does.